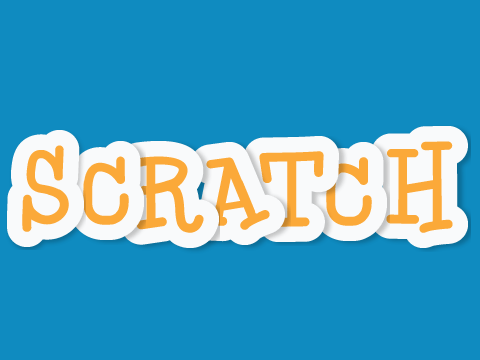 Scratch je grafički programski jezik koji je nastao na MIT-ju (Massachusetts Institute of Technology) u Americi. 
Scratch koriste deca u osnovnim školama, studenti, roditelji i svi koji žele da nauče da naprave animacije i igrice. Scratch je prilagođen deci i svim početnicima u programiranju. Dizajniran je grafički, kako bi deci omogućio lakše programiranje i prepoznavanje funkcija. Programski jezik je slobodan i otvoren, koji možete da koristite uz internet i napravljen nalog, bez ikakve dodatne instalacije.
Scratch je prilagođen za učenje programiranja. Sastoji se od tri dela: stage-a, na kojoj se odvija igrica koju isprogramiramo, bloka funkcija, koje koristimo za programiranje i radne površene, na kojoj slažemo naše funkcije u smislenu celinu kao lego kocke. Funkcije su u vidu blokova raspoređene u bojama, kako bi deci olakšalo učenje. Može se koristiti za edukativne i zabavne svrhe, kao što su pravljenje animacija za prezentovanje nekog projekta.
U Scratch programskom jeziku postoje opcije dodavanje novih likova od kojih se sastoji naša igrica ili animacija. Likove možemo da izaberemo iz sopstvene biblioteke scratch-a, da ih sami nacrtamo ili ubacimo sa interneta. Takođe,isto možemo da uradimo i sa pozadinom. Možemo da izaberemo pozadinu iz biblioteke scratch-a, da je sami nacrtamo ili da je skinemo sa interneta. Postoji veliki broj opcija, gde deca mogu da iskažu svoju kreativnost, realizuju svoje ideje i postanu kreator igrice.
U bloku funkcija postoji deset segmenata za programiranje. Svi segmenti su raspoređeni po bojama. Postoji tamnoplavi segment za pokretanje likova i sadrži funkcije za njegovo kretanje. Ljubičasti segment sadrži funkcije za izgled junaka, koji nam omogućava da isprogramiramo kako će izgledati naš junak. Ružičasti segment je za programiranje zvuka u igrici. Tamnozeleni segment nam omogućava da crtamo. Npr. da isprogramiramo crtanje, trougla, pravougaonika, kruga, kvadrata… Narandžasti segment nam služi da napravimo varijable i koristimo ih po potrebi u zavisnosti od sadržaja igrice. Braon segment služi za programiranje događaja u igrici. U žutom segmentu se nalaze petlje i uslovi. Svetloplavi segment sadrži komande za dodirivanje i kontrolisanje tipki npr., dok zeleni segment sadrži matematičke operacije. Poslednji, ljubičasti segment sadrži blokove koji nam omogućavaju jednostavnije programiranje.

Pomoću svih navedenih funkcija, Scratch nam pruža mogućnost pravljenja vrlo interesantnih, sadržajnih i pametnih igrica i animacija. Na ovaj način deca kroz pravljenje igrica uče da programiraju. Sve što naprave od igrice, oni su isprogramirali. Da bi nešto isprogramirali, moraju da nauče koordinatni sistem, algoritam, petlje, uslove i značenje svake funkcije. Kada nauče sve navedeno, pitanje je samo dečije mašte i kreativnosti kakva će  igricu napraviti. Mogućnosti su velike.
Naš zadatak je da im pružimo kvalitetnu nastavu, da kroz pravljenje igrica nauče da programianju i da ih uvedemo u svet informacionih tehnologija. Na zabavan način, budimo kod dece zainteresovanost prema programiranju i usmeravamo ih u tom pravcu. To može da im pomogne u odabiru daljeg školovanja, što je jedan od ciljeva naše škole.
Vaša deca imaju priliku koju Vi niste imali. Imaju priliku da budu upoznata sa svetom programiranja, da budu obučeni za rad na kompjuteru i da im bude olakšana mogućnost u traženju posla u budćnosti.